Marlim's staff have been undertaking most of our services since the early 1990s.  We are always ready for large and small projects, in any location.  Over the years we have developed a good relationship in many DFO and MoE district offices.  Marlim ensures that all its employees are up-to-date with the various technical documents and publications that pertain to our offered services.  More Information:
Please contact us for current rates and specifics on rates as they would apply to different types of  projects.  Our rates are very competitive and may often be adjusted to fit a particular Client's or project's needs.  We also have an extensive inventory of field, office and lab equipment with flexible charge-out rates depending on the length and needs of a particular project.  This information can be supplied upon request.
Fish Salvage, Stream Classification & Inventory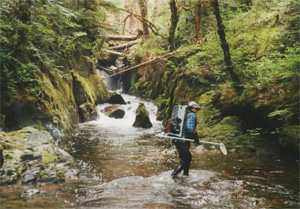 Since 1995, our projects have taken us from the northern portion of BC (Chetwynd/Fort St. John area) to the mid-coast of the province (Bella Coola, River's Inlet areas) as well as many areas of the Lower Mainland and South Coast.  We have all of the equipment necessary to effectively perform Fish Salvage under diverse situations. This includes: a small plastic boat used for boat-electrofishing in deep bodies of water (road-side ditches, streams and small ponds), Smith Root model 15C backpack electrofisher, Gee minnow traps, stop-nets, dip-nets, etc. In addition to our Fish Salvage experience, we have diverse project experience with Stream Classification and Fish & Fish Habitat Inventory (FFHI) studies throughout British Columbia. Fish permit requests can be prepared quickly and are usually processed quickly by the Agencies.
Construction Monitoring
Since 1996, our projects have been in the Mid-coast region of the B.C. coast, numerous locations throughout the Lower Mainland in both rural and urban locations and in the Cariboo/Chilcotin region, and northern B.C..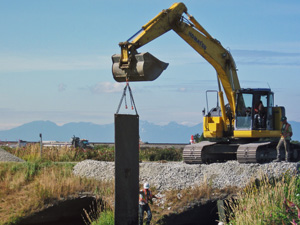 While applying for and completing many of our urban projects, we employed innovative, cost-effective and alternative methods of silt control, and habitat enhancement in order to satisfy specific needs of our clients, the Government agencies, and the environment.  Our extensive equipment inventory includes the necessary sampling & survey equipment required for many types of Construction Monitoring projects.  This includes: water quality meters, digital camera, underwater camera, video camera, etc.
On projects where Instream Works Permits are required, we have many years of experience in preparing and obtaining the necessary MoE & DFO permits.
Watershed Restoration (WRP & FHAP)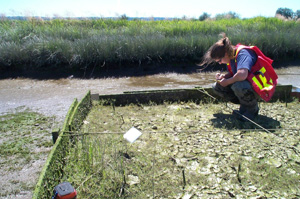 Marlim's staff have been undertaking Watershed Restoration Projects (WRP) and Fish Habitat Assessment Procedures (FHAP) since 1994.  Our projects have taken us up North to Bella Bella and Denny Island, to the West-coast of Vancouver Island and the Queen Charlotte Islands, to the Cariboo/Chilcotin, and the Okanagan.
We have taken part in many projects involving WRP & FHAP therefore are very experienced with the procedures and methodology.  We are capable of completing FHAP assessments in streams, lake and marine environments.  We are familiar and up-to-date with the various technical documents and publications pertaining to these studies.
Contaminated Site Assessments, SCUBA & Misc.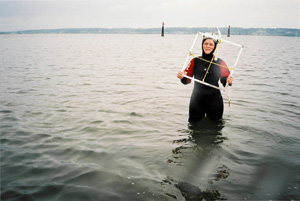 Marlim's staff have been undertaking Contaminated Site Assessments since 1999.  Marlim is qualified to complete both Phase I (preliminary) Site Investigations, and Phase II Site Investigations (soil and water sampling), as well as the environmental monitoring associated with these types of projects. To date our projects have been in and around the Lower Mainland, Prince George, Quesnel, Kelowna, and Lac La Hache.  However, we are prepared to undertake these types of projects throughout the Province, Canada and the USA.
Wildlife, Raptor and Amphibian Studies
Marlim's staff have been undertaking wildlife, raptor, and amphibian studies since 2001 both in the lower mainland, and in areas of northern BC. Marlim is qualified to identify wildlife, raptor, and amphibian presence and activities in various areas. Marlim has completed winter use/wildlife tracking surveys for ungulates, Pine Marten, Fishers, etc. in a northern BC forest harvest area in order to determine tree retention and wildlife corridor buffers.  Marlim is prepared and qualified to provide recommendations for maintaining habitat where wildlife, raptors or amphibians of concern have been identified, as well as providing recommendations for habitat compensation where habitat has already been removed or reduced.
Environmental Permitting and RAPR Assessments
Marlim has been preparing, submitting and acquiring environmental permits for projects since 1992. Marlim has a good rapport with permitting agencies including the Ministry of Environment (MoE) and the Department of Fisheries and Oceans (DFO). Marlim has experience applying for and acquiring a wide variety of environmental permits including: fish sampling and salvage, Instream Works, Tree Clearing, Foreshore Development, Watercourse Re-location/In-filling, and more.  Marlim is also qualified to complete and submit environmental monitoring plans such as proponent action plans and erosion and sediment control (ESC) plans. Marlim's staff have been completing Riparian Areas Protection Regulation (RAPR) assessments since 2007. Marlim's qualified personnel have completed both the Simple & Detailed site assessments required for these assessments to obtain permissions for development projects throughout the Lower Mainland and in the Okanagan.
Watercourse Mapping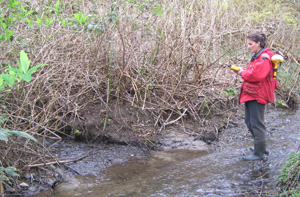 Marlim's staff have been completing watercourse mapping projects since 2005. Marlim is qualified to complete a wide variety of mapping projects ranging from small streams or reaches of streams to Sensitive Habitat Inventory Mapping (SHIM) for entire watercourses. These mapping projects have included: stream center-line mapping, top-of-bank mapping, high water mark mapping, specific wildlife or habitat feature mapping, as well as instream features mapping.  Collectively, Marlim has mapped well over 1000 km of watercourses since 2005.  Marlim conducts stream mapping using a Trimble GPS unit with a Pathfinder Power receiver and TDS Ranger datalogger.  Data is corrected post-mission using base station correction files.  All files are corrected to 99.5% accuracy or better.  Raw data is converted to Shapefiles and processed further using ArcMap/ArcGIS.